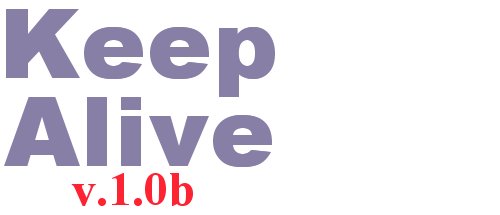 by Mike Rotch
It's always the same:
You set a file to download, and rise from the computer to busy yourself with other important matters(like taking a dump)only to return later to a disconnect message, along with a failed file window.
Does your dial-up ISP require you to be surfing the web every few minutes or it disconnects?
Now, you can set your file(s) to download, and use Keep Alive to maintain your internet connection, while you go about your business...away from the computer! The best part about using Keep Alive is, there is no software to download! None! It's simple, and easy to use!
If you already have a software program that says it will keep your connection alive, chances are that it won't any more! Several ISPs have recently made changes to monitor your web surfing activity, rather than data transfer. Simple pings or sending garbage to and from a site might not work anymore.
It's time for Keep Alive v.1.0 !
The simple solution.
Make A Selection:
How it works
The History
What People Are Saying
Credits
Feedback
Disclaimer
Use Keep Alive v.1.0
When activated, Keep Alive jumps from one webpage to the next. Each website is kept within the same site as the Keep Alive webpage. It's a series of redirections that continues in an unending loop. To spice it up a bit, we've timed redirections differently, and added an image here, and text there. We will also be adding additional pages to the mix all the time! So content will change, so a pattern isn't permanently established. With Keep Alive, you can click once, and let your system browse the site throughout the day and night, while you download your files, and stay connected.
After your file download is complete, press the STOP button on your web page browser. This will deactivate Keep Alive. To restart Keep Alive, begin your file downloads, and return to the Keep Alive home page.
Keep Alive is only recommended for users who have a dial-up ISP that disconnects them in a certain period of time (minutes,hours) for not browsing the web (inactivity).
(return to top)
July 7, 2000
. Keep Alive concept put into action.
. Keep Alive v.1.0 created.
. Keep Alive web site created.
. Keep Alive redirect web pages series 1 created
July 15, 2000
- Keep Alive informational file submitted to Download.com
(return to top)
This section will feature feedback which we receive from you, the users of Keep Alive.
(return to top)
Keep Alive was created from the ground up by Mike Rotch, July 2000.
(return to top)
Keep Alive is an educational web page designed by Mike Rotch. Currently, he knows of no damage that can be done by using Keep Alive. However, the internet is a place where anything can happen. As such, this disclaimer had to be made. Keep Alive is to be used at your own risk. Mike Rotch can not be held responsible for anything resulting from the use of Keep Alive. E-mail sent in feedback to Mike Rotch is instantly considered public domain. It will be posted to the Keep Alive website for Mike Rotch to comment on, and others to read.
(return to top)
Start the download of the files you intend to get on the internet.
After they've begun, you can start Keep Alive by clicking here.
(return to top)
Feedback
I want to hear from you! Is Keep Alive working good for you? Are you staying online until your files download? What ISP do you use? What type of additional content would you like to see on Keep Alive?
I will post your comments to the what people are saying section, and I will comment on your feedback here too.
Click here to send feedback.
*****At this time, I am not accepting feedback. In the future I may change this.